In collaboration with the New York City Department of Education, Counseling In Schools and the Northwell Health Center for Gun Violence Prevention, NVP USA is pleased to announce the launch of WHY KNOT NY ?, a campus-based initiative focused on gun violence prevention and conflict resolution from a youth-led perspective.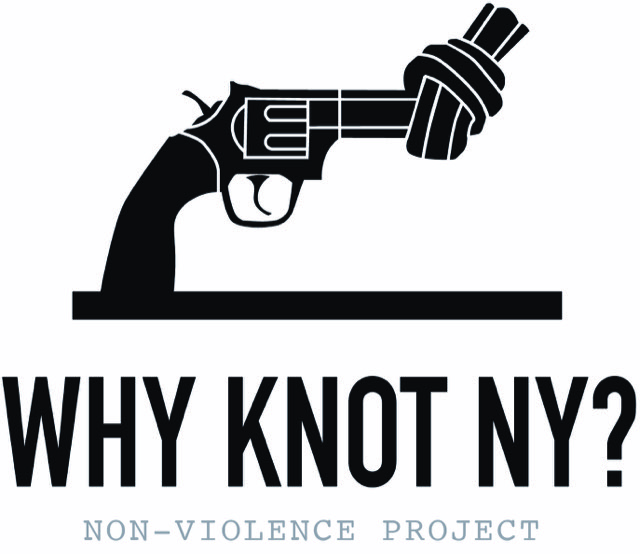 A youth-led perspective
The initiative aims at using social-emotional learning through the NVP SCHOOLS FOR PEACE program, offering students the opportunity to explore creative ideas and solutions from their perspective, such as a safe space to share fears or information on violence, school videos in memoriam to those lost in school and community environments and neighborhood partnerships with local healthcare providers in the sharing of impactful violence-prevention practices. The students' voices, responses and recommendations will be recorded and collated for presentation to school, city, national and international leadership, including the United Nations on the International Day of Nonviolence.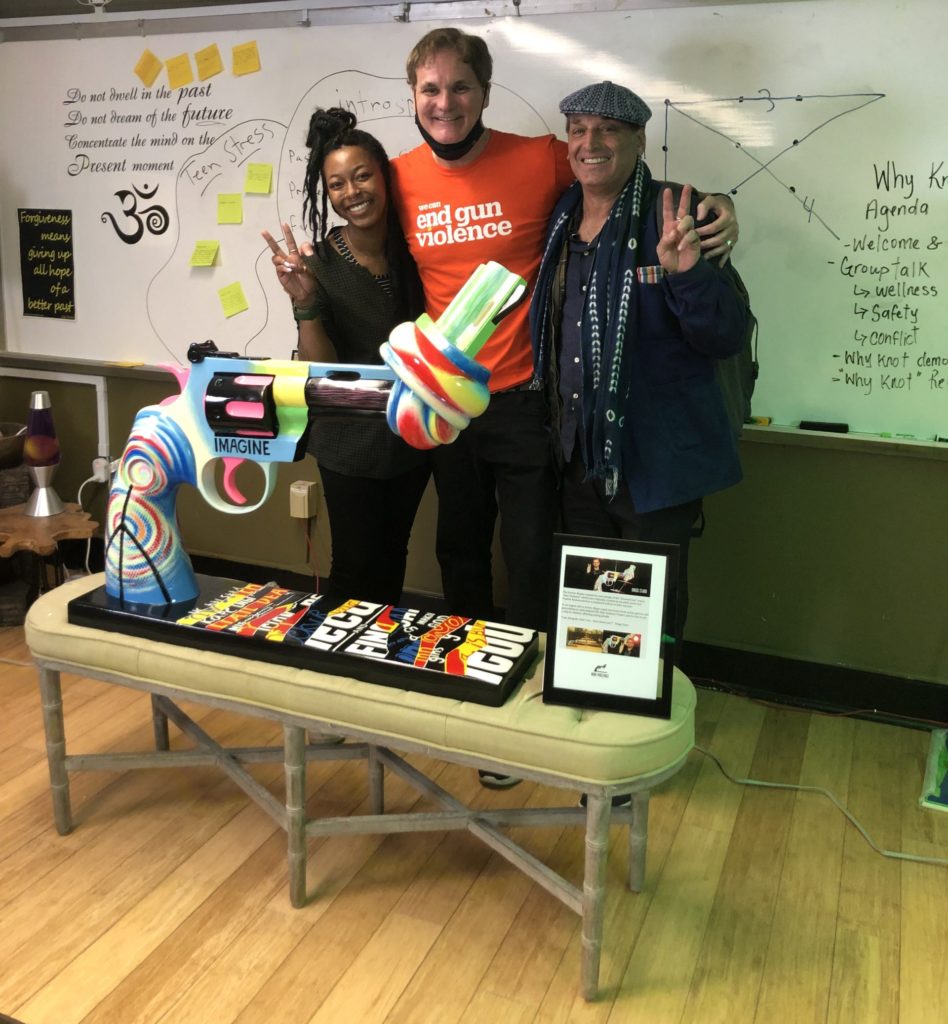 WHY KNOT ? utilizes the powerful imagery of the Non-Violence Project's « knotted gun. » one of the most recognizable symbols for peace in the world. The initiative moves to all five boroughs in New York City with a roll-out to other major cities across the country, specifically metropolitan areas suffering from extraordinary gun violence. Sponsors, partners and influencers are encouraged to help support the underwriting of materials and facilitators.
NY school campuses part of the pilot project
Upwards to 20 Student-Artist Ambassadors per school will participate in the NYC pilot of WHY KNOT ?. Their participation and creations will serve as representation of the extended school community across the entire city of New York.
Five campuses are committed to participate in the pilot project, one in each borough (Manhattan, The Bronx, Brooklyn, Queens and Staten Island).
Art to raise awareness
The « knotted gun, » an international symbol of peace and logo of NVP, will be used to run creative exercices on the theme of non-violence. The Student-Artist Ambassadors will customize their own pieces within the larger context of the Schools for Peace curriculum, centered around group discussions on healing, prevention and public safety. Celebrity artists, NVP Ambassadors for Peace – are being shortlisted to design large one-meter versions to be exhibited at the schools and in the boroughs year-round.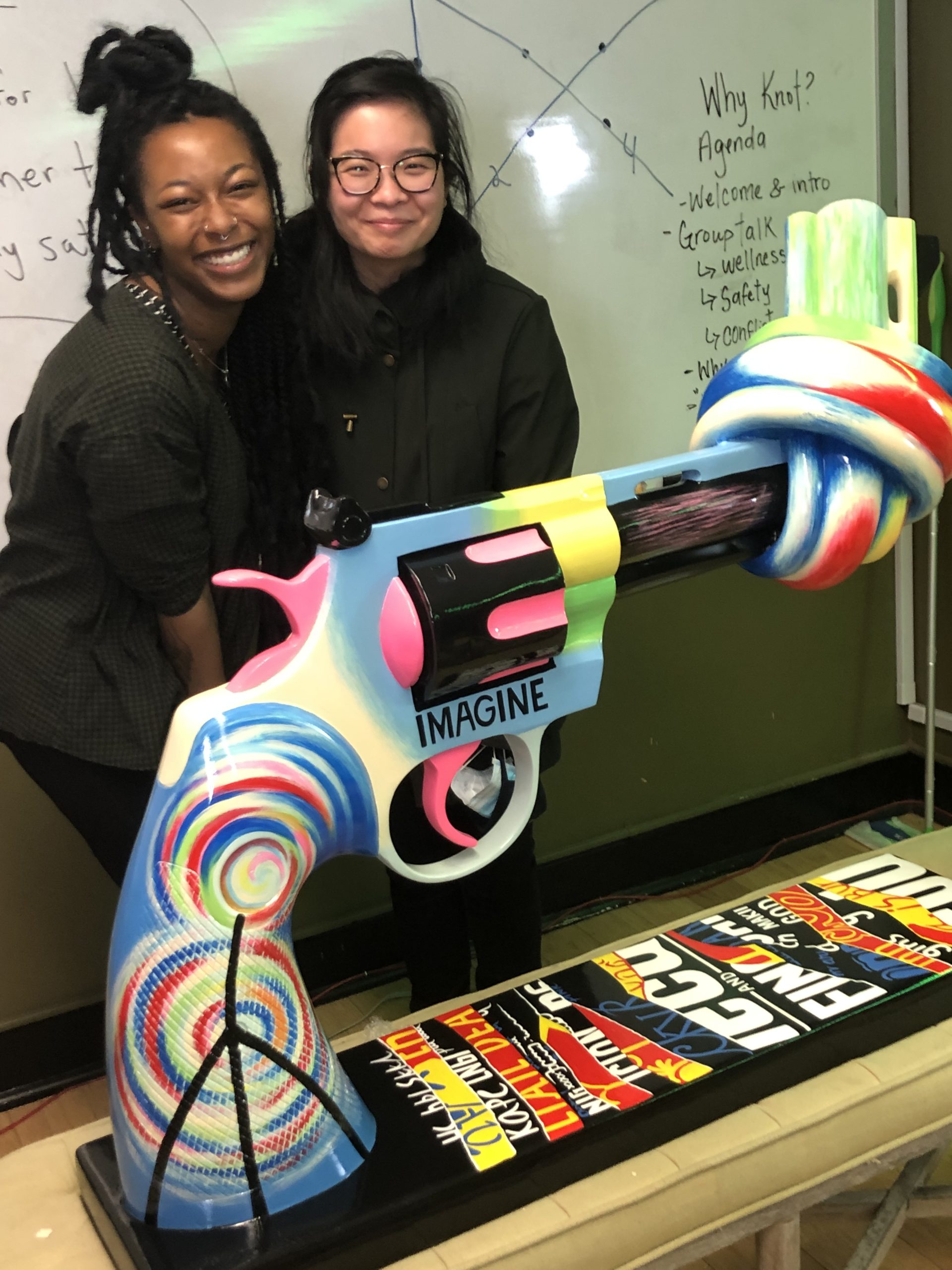 Join the WHY KNOT movement !
NVP USA welcomes purpose-driven and kind-hearted contributors to sponsor the timely and important roll-out of this purposeful initiative. Sponsors, partners and influencers are welcomed with bountiful goodwill and recognition across the Non-Violence Project platforms.
To participate as an Ambassador or sponsor the mission please contact: john.mckenna@nonviolence.com