International Non-Violence Day - Beirut officially unveils a 150cm bronze Knotted Gun "Non-Violence" sculpture placed in the very heart of Beirut, Middle East.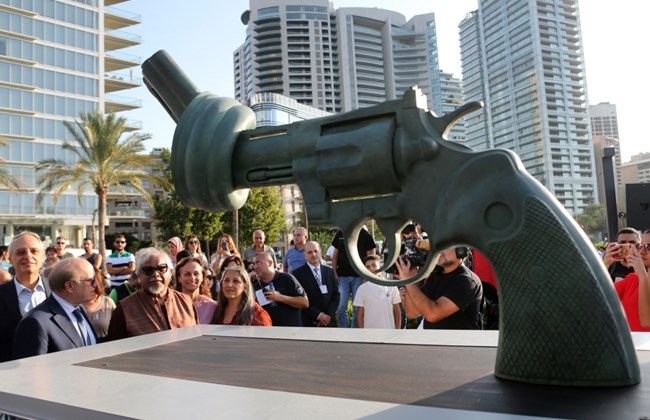 One of the two Non-Violence statues unveiled by AUNOHR university waterfront in central Beirut under the patronage of the Prime Minister and in presence of Arun Gandhi, Mahatma Gandhi grandson.
On the occasion of October 2nd, The International Day of Non‐Violence and the Lebanese National Day of Non-Violence, the universal sculpture "Non‐Violence", by the Swedish artist CARL FREDRIK REUTERSWÄRD was unveiled, in the first Arab capital, Beirut.
The day is an official celebration under the patronage of the Prime Minister Saad Hariri represented by the Minister of Culture Mr. Ghattas Khoury, and Arun Gandhi, Mahatma Gandhi's grandson with the participation of officials, ambassadors, artists, and students.
The symbol of Non-Violence is a universal symbol for peace and non-violence without any religious, political or cultural boundaries. It is the symbol of the Swiss based foundation The Non-Violence Project who has since 1993 educated over 8 million young people, teachers and sport coaches globally in how to solve conflicts peacefully through their education programs Schools for Peace and Sports for Peace.
The 2nd of October was also the start off point for a fruitful collaboration with the Academic University for Non-Violence and Human Rights (AUNOHR). Through their pioneering work, the founders of AUNOHR, Ms. Ogarit Younan and Mr. Walid Slaiby, succeeded in establishing a national day of non-violence in Lebanon, thus institutionalizing the culture of non-violence and human rights through the creation of this unique university in the world.
Two sculptures are established in the heart of Beirut, one in a cultural place in the garden of the National Library, and another at the seaside.
"Beirut is the first Arab city to inaugurate this statement for peace and non-violence. It is indeed impossible to imagine a more emblematic place, Beirut, that has been the scene of so much violence in recent decades. We look forward to sharing our experiences and everything we have with AUNOHR, in order to continue our struggle together towards the only possible way, that of peace and non-violence. For Lebanon and for the rest of the world. "says Blaise Oberson, CEO, NVPF.
The celebration and unveiling of the Non-Violence sculpture was broadcasted on national television in Lebanon.
For more information about the 2nd of Oct event and the collaboration with AUNOHR, Beirut, please contact:
Blaise Oberson, CEO NVPF; info@nonviolence.com
Maya Abou Khouzam, Public Relations Coordinator AUNOHR; communication@aunohr.edu.lb