The Non-Violence Project Foundation (NVPF) is pleased to announce the launch of its partnership with LINKS JEWELS in the USA. LINKS JEWELS will bring to the US market jewelry made out of illegal melted guns, in collaboration with Humanium Metal. The launch is supported by The Swedish-American Chamber of Commerce in New York (SACCNY).
Turning illegal melted guns into jewelry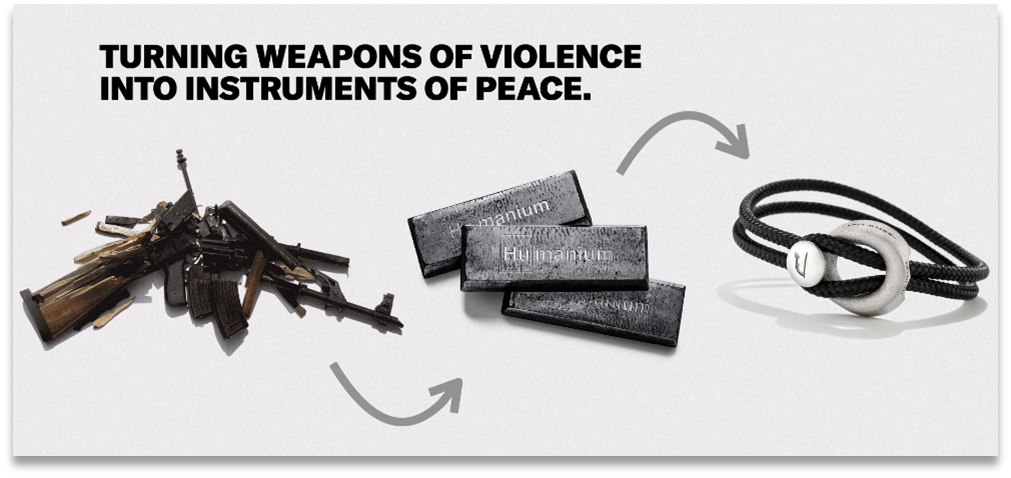 Links Jewels is a fine jewelry company which stirs emotions and provokes for a better future.
The first fashion company in the world to make fine jewelry with Humanium Metal from melted illegal firearms and endorsed by renowned violence prevention organizations, including The Non-Violence Project Foundation, as well as Ambassadors for Peace, such as The Dalai Lama, Oona Chaplin and Ringo Starr. Contradicting claims that fashion doesn't contribute to a better world. Links Jewels' mission does.
Links Jewels jewelry brings meaning and purpose, not just a look. Made in part with Humanium Metal derived from destructed illegal weapons taken off the streets and melted for a new purpose, these pieces create a statement beyond other precious metals.
"We combine gold and diamonds with ethically sourced materials for positive impact on society. When you wear Links Jewels, you contribute to a cause affecting people around the world" says Fredrik Ivansson CEO & Co-Founder.
The Knotted Gun, international symbol of peace
In September 1988, one of Sweden's most internationally known works of art also known as The Knotted Gun sculpture was unveiled outside the UN in New York. Thirty years later, Carl Fredrik Reuterswärd's classic "Non-Violence" sculpture remains a global symbol for peace and conflict resolution.
Today, NVPF has been active in more than 30 countries on five continents. Since its inception in 1993, 50,000 teachers and over 9 million people - students, teachers, sport coaches, community leaders, corporates among others - have been trained in areas such as harassment, bullying and racism prevention, as well as self-esteem building and conflict management.
"The symbol plays a big role. That is why we are happy to be part of Links Jewels' journey into the US market. Together, we will contribute to raising awareness on violence prevention and increase understanding around conflict resolution" says Jan Hellman Co-founder & President The Non-Violence Project Foundation.
Support from SACCNY
To create the right conditions for success on the US market, Links Jewels has joined a member of The Swedish-American Chamber of Commerce in New York (SACCNY). SACCNY is a non-governmental organization with over a hundred years of accumulated knowledge and experience helping Swedish businesses accelerate on the U.S. market. "From the very outset of being introduced to Links Jewels, with its mission and sense of purpose, combined with beautiful design, I have believed in the potential for success and growth in the U.S. I am proud of this opportunity to work with the Links Jewels team, and where SACCNY hopes to be an important support agent for entry on the US market" says Anna Throne-Holst, President of SACCNY.
Changes x Non-Violence in the US market
Links Jewels first collection to be introduced in the US is "Changes - a junction of cultures". Changes is rooted in the spirit of materials as an act of consciousness and show of support. Changes is made from destructed illegal firearms, shaped into beautiful jewelry while embodied with history and purpose. The bracelet is made in Sweden and each piece sold generates proceeds towards The Non-Violence Project Foundation's educational work.
We hope you feel inspired by our mission.
Contacts
NVPF, Jan Hellman (Co-Founder & President) – www.nonviolence.com
Links Jewels, Fredrik Ivansson (CEO) – www.arildlinks.com
Humanium Metal - Simon Markegran (PR) - www.humanium-metal.com
SACCNY, Anna Throne-Holst (President) - www.saccny.org